This is an archived article and the information in the article may be outdated. Please look at the time stamp on the story to see when it was last updated.
OKLAHOMA CITY– FBI agents are looking for a man they suspect robbed the same bank twice in the last two months.
On Monday, a man robbed the Bank of Oklahoma, on May Ave., after showing the teller a semi-automatic pistol and demanding money.
After investigating the crime, authorities believe the same man robbed the same Bank of Oklahoma branch in May.
During that robbery, the suspect demanded money from a teller and said that he had a weapon.
In both robberies, the subject was seen leaving the bank on foot, heading east.
Fortunately, no one was injured in either case.
Witnesses describe the suspect as a black male in his late 20s or early 30s.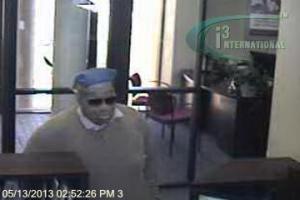 He stands 6'2″ to 6'5″ tall and weighing 300 pounds.
During the first robbery, he wore a tan sweater over a light-colored shirt, tan pants, white rubber gloves and a light blue surgical cap.
He was wearing sunglasses and appeared to have makeup on his face.
In the most recent robbery, he wore a long-sleeved shirt, a straw brimmed hat, a black curly wig and fake beard.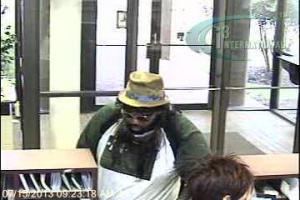 The crimes are being investigated by the FBI and the Oklahoma City Police Department.
Anyone with information regarding the robbery should call the FBI at (405) 290-7770.
The Oklahoma Banker's Association is offering a $2,000 reward for information leading to the arrest and conviction of the person responsible.