This is an archived article and the information in the article may be outdated. Please look at the time stamp on the story to see when it was last updated.
MOORE, Okla. – Officials are looking for a man and woman accused of robbing a bank in Moore.
It happened at IBC Bank near NE 12th and Eastern around 12:45 p.m. Tuesday.
According to the FBI, a man and woman wearing masks and dark clothing entered the bank, displayed guns and verbally demanded money from employees.
One of the subjects was identified as a black male, approximately 6′ and 200 lbs.
The suspects then left with an undisclosed amount of money and fled the scene in a red or maroon SUV, possibly a Chevy Equinox with no tag displayed. There is no suspect description at this time.
No injuries were reported.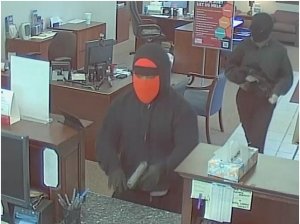 The Oklahoma Bankers Association is offering a $2,000 reward for information leading to the arrest and conviction of the suspects.
If you have any information, call the FBI at (405) 290-7770 or submit a tip online at tips.fbi.gov.