Fire at New Jersey mansion leaves four dead in possible arson case
This is an archived article and the information in the article may be outdated. Please look at the time stamp on the story to see when it was last updated.
NEW JERSEY – Two adults and two children are dead following a fire at a mansion in Colts Neck, New Jersey, that is being investigated as possible arson, a prosecutor said Tuesday.
Monmouth County Prosecutor Chris Gramiccioni also said authorities are investigating a separate house fire in nearby Ocean Township as arson and are looking into whether the two fires are related.
Property records show the Colts Neck home is owned by Keith and Jennifer Caneiro and that the Ocean Township home is owned by Paul and Susan Caneiro. The two homes are about 11 miles apart.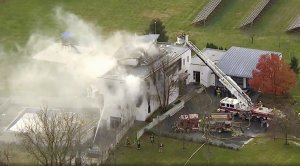 Paul Caneiro, 51, was arrested Wednesday and charged with second-degree aggravated arson in connection to the fire Tuesday morning at his Ocean Township home.
Authorities allege he set fire to his house by igniting gasoline while his wife and two daughters were inside, according to the complaint and warrant provided by the Monmouth County Prosecutors office.
There were no injuries in that blaze.
Gramiccioni cautioned against leaping to conclusions about the fires until authorities investigate further.
"Both of those homes that we are talking about, they're owned by — under public records — by common family members," Gramiccioni said.
"I would just encourage the media and the public to not get carried away until there's reason to believe whether that might be linked or not. It's important not to do that until there is an objective reason to do so."
The call for the Colts Neck fire came in at 12:38 p.m. on Tuesday — more than four hours after the Ocean Township fire — and more than 20 fire departments responded. Authorities said they were not aware of any law enforcement calls to the home prior to that time.
Authorities aren't releasing the names of the victims or confirming whether they were members of the same family, Gramiccioni said Tuesday. The cause and manner of death are still under investigation.
The prosecutor did say a deceased male was found outside the home, and that three other bodies were found inside the home and were burned severely.
Gramiccioni was asked Tuesday if a gun was found next to the man's body outside the home and whether the body had a gunshot wound. He said he couldn't "confirm or deny that," adding that the medical examiner needed time to process the scene.
Paul and Keith Caneiro are the sole officers of a company that involved the sale and service of computers, according to New Jersey business records.
State records from 2014 show that Paul and Keith Caneiro registered an Asbury Park-based company named Jay-Martin Systems that was doing business as "Square One." The company is described as engaging in the "sales and service of computers." A 2007 filing indicates that Keith was the president of the company.
The documents listed the home addresses for Keith Caneiro and Paul Caneiro, which were the sites of the fires in Colts Neck and Ocean Township, respectively.