This is an archived article and the information in the article may be outdated. Please look at the time stamp on the story to see when it was last updated.
OKLAHOMA CITY – Residents trapped on the second story of an apartment building had to jump to safety after a three-alarm fire broke out in southwest Oklahoma City.
Officials say the Brookwood Village apartment complex near S.W. 89th and Western caught fire Wednesday night.
The two-story complex was completely involved in flames when fire crews arrived on scene.
Some people were trapped on the second story, and the only way out was to jump.
"We had people on balconies trying to get away from the fire because they were trapped, due to not being able to get out of the apartment into the breezeway," Chief Michael Paschal with the Oklahoma City Fire Department said.
At least two people were taken to the hospital to be treated for their injuries.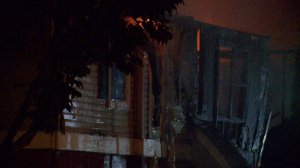 Fire crews say 16 apartments have heavy damage from the flames.
The blaze caused about $500,000 in damage.
Several families are now left homeless.
Officials say the Red Cross is helping about 12 families with temporary places to live.
Fire investigators are looking into arson as the possible cause for the flames.