This is an archived article and the information in the article may be outdated. Please look at the time stamp on the story to see when it was last updated.
OKLAHOMA CITY - Emergency crews are working to get a grass fire under control in
northeast Oklahoma County.
Firefighters rushed to the area of Waterloo and Westminster after receiving calls about a grass fire spreading, shortly before 3 p.m. Monday.
Before fire crews arrived, the blaze may have torn apart one structure.
It does not appear that the fire is threatening any homes or businesses nearby at this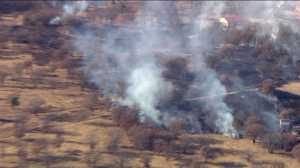 time.
However, it continues to consume open land.
Authorities believe about 5 to 10 acres have been burned so far.