This is an archived article and the information in the article may be outdated. Please look at the time stamp on the story to see when it was last updated.
COVINGTON, Okla. -- A devastating fire destroys a long-standing and unique business in northwest Oklahoma Sunday afternoon.
Fast-moving flames devoured a couple of greenhouses in the town of Covington (Garfield County), turning a collection of cacti into ashes.
Midwest Cactus and Greenhouses is Oklahoma's largest cactus grower in the state that is now staring at a $50,000 loss.
The family said it was devastating watching decades of work, nearly 100,000 cactus plants, go up in smoke in 20 minutes.
Naoma Nimrod and her husband started this business as a hobby 45 years ago.
She said there was just something about this sometimes unpopular plant that she loved.
"They've got some of the prettiest blooms," she said. "They don't last long but they're beautiful."
Sunday afternoon, someone banged on Naoma's door, telling her one of her two greenhouses was on fire.
"The dry grass, it just spread so fast and then the wind picked up," she said.
Soon, the other greenhouse caught fire.
Naoma was desperate.
She tried unsuccessfully to get inside to reach a garden hose.
"To save something," she said. "This is our life and so you're going to try to keep it."
In a few minutes, nearly everything was gone.
Covington volunteer Fire Chief Cory Rink said two weeks ago an old train car that used to be a diner went up in flames as well.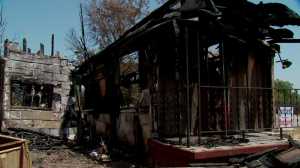 Witnesses said they saw two juveniles running from the area, prompting a fire marshal's investigation.

He said he does not believe arson is a possible cause at Midwest Cactus.
"As dry as it is out here, anything could be the cause," Rink said.
Naoma believes hot weather ignited the dry grass next to the greenhouses as well.
Mother nature causing 45 years of work to go up in smoke.
"Well yeah, it went up in smoke but it can be replaced. No one got hurt. That's the main thing," she said.
Naoma said insurance companies told them the greenhouses were too risky to insure.

They'll get by on social security and disability until they slowly rebuild.
The official cause of the fire is undetermined.