This is an archived article and the information in the article may be outdated. Please look at the time stamp on the story to see when it was last updated.
OKLAHOMA CITY – Firefighters were able to extinguish a blaze at a garage fire in northwest Oklahoma City Tuesday morning.
Officials say the fire started around 7 a.m. inside a detached garage at a home near N.W. 34th and Barnes.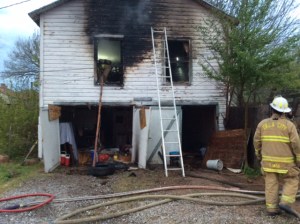 The second floor of the garage was destroyed in the fire.
Investigators believe someone was living in the garage on the second floor.
Firefighters believe whoever was living in the garage may have been bootlegging some natural gas from a nearby gas meter.
Fortunately, no one was injured in the fire.
So far, officials have not been able to locate the homeowner.
The fire caused an estimated $40,000 in damage.
BREAKING:fire at 2 story house w/detached garage NW 34th & Barnes.
Several calls to 911, people see flames coming from Windows & roof .@kfor

— Ashley Legg 💪🏽 (@leggday) March 29, 2016
Crews still working, we can see smoke coming from house .@kfor pic.twitter.com/fRHXZ5pPmw

— Ashley Legg 💪🏽 (@leggday) March 29, 2016
Update: fire started in detached garage .@kfor

— Ashley Legg 💪🏽 (@leggday) March 29, 2016
Fire officials: appears someone was bootlegging natural gas .@kfor

— Ashley Legg 💪🏽 (@leggday) March 29, 2016
Firefighters noticed on the gas meter, there was an inner tube running from one side to another to get gas .@kfor

— Ashley Legg 💪🏽 (@leggday) March 29, 2016
No injuries! Fire officials haven't been able to locate homeowners or talk to neighbors yet .@kfor

— Ashley Legg 💪🏽 (@leggday) March 29, 2016