This is an archived article and the information in the article may be outdated. Please look at the time stamp on the story to see when it was last updated.
OKLAHOMA CITY – For more than a decade, Firefighters Local 157 have pitched in and used their own money to buy toys and other wish list items for hundreds of children in the care of the Oklahoma State Department of Human Services.
A huge garage was filled with toys, from bikes to Legos and games, all for more than 400 children in need this holiday season.
Aaron Fisher, a firefighter with the Oklahoma City Fire Department, said, "Here's an Xbox game."
According to Fisher, filling a truck with gifts for children in foster care is a highlight of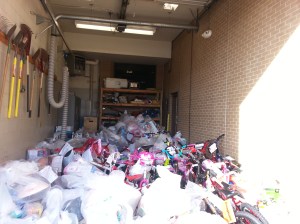 the year for many firefighters.
He said, "I think that's why the vast majority of us got in this job, to help people and I think this is just an extension of that."
Brett Hayes, a child welfare supervisor with DHS, said, "Man, we're going to have some happy kids, happy kids this year, for sure."
Hayes said for the thousands of kids in foster care, it will be a dream come true to receive Christmas presents from their wish lists.
He said, "Every year, we have kiddos that say,'You know, I'm in care, where's Santa Clause going to deliver the gifts?' Well guess what, Santa Clause is going to deliver."
Hayes and fire officials say they hope kids who wake up to find treasures under the tree will have big smiles on their faces this Christmas.
He said, "Just knowing that they're not forgotten."
Phil Sipe, with the Oklahoma City Firefighter's Association, said, "I hope they have joy and happiness, something that they may not have otherwise."
If you are interested in learning more information about being a foster parent, which is a big need in Oklahoma, visit the DHS website.