This is an archived article and the information in the article may be outdated. Please look at the time stamp on the story to see when it was last updated.
GUTHRIE, Okla. – An 8-month-old child is dead and three other people are injured following a morning fire in Guthrie, Okla.
According to fire crews on the scene, the fire broke out around 3:30 a.m. Wednesday in an apartment complex in the 900 block of N Pine St.
Officials say the complex, which was built in the 1980s, had no firewalls or sprinklers.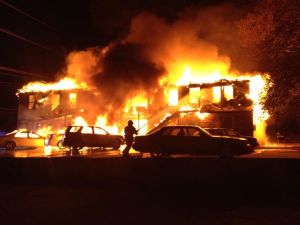 Firefighters say the fire quickly consumed six units, forcing multiple people to jump out of second story windows to escape.
"It was kind of nerve-racking because I heard everybody crying," said Josh James, a neighbor.
When fire crews got to the scene, priorities quickly shifted from fighting the blaze to helping those who were hurt.
"We start with medical injuries first then the fire kind of becomes secondary," said Fire Chief Eric Harlow.
Some residents suffered from broken bones after jumping out of the second story units.
Three people were taken to the hospital with injuries, said officials.
An 8-month-old baby was also killed in the fire.
"Unfortunately we did have an 8-month-old infant that died in the fire, reported missing when crews got to the scene. We were able to recover the body after we put out the fire," said Harlow.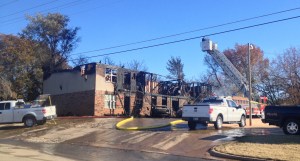 Six units were damaged, leaving more than a dozen people without a home.
Volunteers are providing comfort and support to families affected by a Guthrie apt fire.

— Red Cross Oklahoma (@RedCrossOK) November 19, 2014
According to the Red Cross, they will be helping victims of the fire.
The State Fire Marshal and Guthrie Fire Department are working together to pin point the cause of the fire, but officials don't suspect foul play.