This is an archived article and the information in the article may be outdated. Please look at the time stamp on the story to see when it was last updated.
OKLAHOMA CITY – Officers responded to the scene of a shootout near a north Oklahoma City gas station Saturday afternoon.
Officials were called to the scene near NE 63rd and Broadway just after 5 p.m. Saturday.
"When we arrived, we found one shooting victim in the red Impala behind us," Lt. Robert Coniglione with the Oklahoma City Police Department said.  "We subsequently learned there was a car to car shooting."
There is at least one victim, with a gunshot wound to the chest taken to the hospital.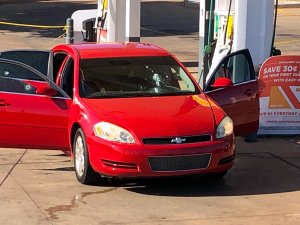 Officers say the shooting did not happen at the gas station.
"It started, as far as we can tell, it started roughly on the 500 block of Northeast 63rd street," Lt. Coniglione said.  "This is where at least one of the cars ended up, and the other vehicle fled the scene."
Police are still searching for the other car involved in the shooting.