This is an archived article and the information in the article may be outdated. Please look at the time stamp on the story to see when it was last updated.
UNITED KINGDOM — Police could soon introduce the United Kingdom's first police cat following a five-year-old's letter.
That was the suggestion Eliza Adamson-Hopper posed to the Durham Constabulary, who made a case for the use of crime-fighting felines, according to Mashable.
Here is the girl's letter in full: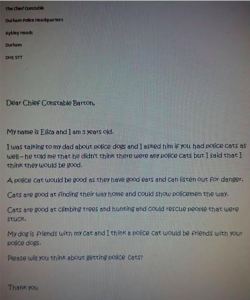 Chief Constable Michael Barton agreed — he sent the girl the following reply, promising her that her suggestion would be considered.
Great response from @DurhamPolice when Chief Constable Mike Barton was asked why there are no police cats. pic.twitter.com/olWFJejDWC

— Tom Wilkinson (@tommywilkinson) March 31, 2016
Police confirmed to Mashable the letters did come from Barton.