This is an archived article and the information in the article may be outdated. Please look at the time stamp on the story to see when it was last updated.
City of Oklahoma City flags are at half staff today in honor of former Oklahoma City mayor Jim Norick.
Norick passed away on Wednesday. He was 95.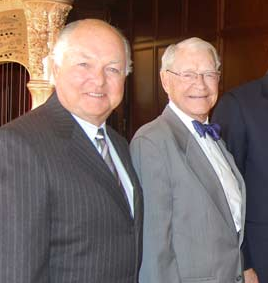 James H. Norick was the father of another former Oklahoma City mayor, Ron Norick.
He served two terms as mayor, his first from 1959 to 1963 .
During that time, the city began a major annexation campaign and Oklahoma City's land area grew several times over.
He was elected to his second term in 1967, and the construction of Lake Stanley Draper and a 100-mile pipeline to move water to the lake from lake Atoka began under his leadership.
During and after his terms in office, Norick remained active in many community organizations and helped bring a professional hockey franchise to Oklahoma City.
When his second term ended in 1971, the City Council passed a resolution recognizing his service and renaming the sports arena at the fairgrounds the "Jim Norick State Fairgrounds Arena."
Flags will remain at half staff for the next week.
[protected-iframe id="58952887637db3e5e392b94c65e6d98a-29519643-81918605″ info="d.getElementsByTagName" ]
[protected-iframe id="d9fc973058c160e975b7496d71cb5db8-29519643-81918605″ info="//platform.twitter.com/widgets.js" class="twitter-tweet"]