This is an archived article and the information in the article may be outdated. Please look at the time stamp on the story to see when it was last updated.
Very few football fans will ever be able to attend a Super Bowl in their lifetime, but one beer company is giving you the chance to win tickets for the rest of your life.
Anheuser Busch announced that it was creating the 'Strike Gold' competition, which is reminiscent of Willy Wonka.
The company will begin selling limited-edition 'Strike Gold' Super Bowl-themed packs of Bud Light.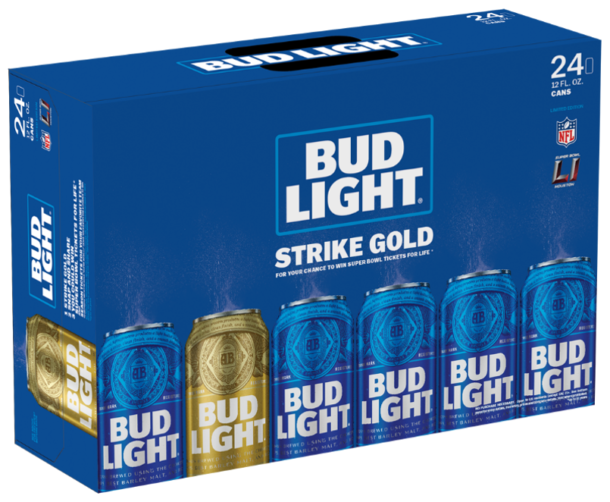 Randomly scattered throughout the packs will be gold Super Bowl cans. If you find a gold Bud Light can, you will have the chance to enter to win tickets to attend the Super Bowl every year for the rest of your life, up to 51 years.
"All season long, Bud Light has celebrated the most passionate and dedicated fans that the NFL has to offer, and as the playoffs approach, we want to see fandom turned up another notch," said Anna Rogers, director of NFL partnerships and strategy, Anheuser-Busch. "Most NFL fans likely won't see one Super Bowl in their lifetime, so we figured what better way to reward one of the NFL's biggest fans than by giving him or her tickets to the big game for the rest of their life?"
The packs with the gold cans will go on sale from Nov. 28 through Jan. 13.
Finding a gold Bud Light is the first step. In order to enter for a chance to win the coveted prize, follow these steps:
Consumers must purchase special-edition packs of Bud Light for the chance to find a gold can, or download a wrap here.
Consumers can enter the sweepstakes by taking a picture with the gold can and posting the sweeps hashtags (#SBTix4Life and #Sweeps) on Facebook, Instagram, or Twitter and/or on BudLight.com*.
Six weekly winners during the promotional window will be selected to win a pair of season tickets to their favorite NFL team.
One grand prize winner will be selected to win a pair of Super Bowl tickets for life (up to 51 years) the week of Jan. 16, 2017.