This is an archived article and the information in the article may be outdated. Please look at the time stamp on the story to see when it was last updated.
OKLAHOMA CITY – After a car accident left an Oklahoma City police officer and well-known MMA fighter in critical condition, a local fraternal order of police is hosting an event to help raise money and spiritual thoughts for his family.
Matt Grice suffered a severe brain injury after his car was hit by a distracted driver at a stoplight in Shawnee.
Capt. Dexter Nelson, with the Oklahoma City Police Department, said, "Matt's been well-loved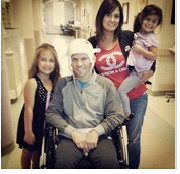 by police officers. He is very, very well-liked."
Click here for more information on the accident.
A local fraternal order of police is hosting a "Praise & Prayer Night for Officer Grice" on Saturday, Nov. 2.
From 4:30 p.m. to 8 p.m., members of the community are invited to head to the Eastpointe Community Church's parking lot, located at 6801 S. Anderson Rd., to show support for Grice's family.
From 4:30 p.m. to 6:30 p.m., visitors will be able to bid on silent auction items and merchandise with all proceeds benefiting his family.
A worship service will begin at 6:30 p.m.
For more information, visit the event's Facebook page.