This is an archived article and the information in the article may be outdated. Please look at the time stamp on the story to see when it was last updated.
OKARCHE, Okla. – A former Oklahoma officer has been taken into custody following an alleged road rage accident last month.
According to police reports, a couple told police they were driving near N. Drexel and N.W. 23rd St. in Oklahoma City on Feb. 21 when a Dodge stopped in the roadway to back into a home's driveway.
The victim, who was driving with his girlfriend and children, told police he honked his horn at the driver.
According to a search warrant affidavit, the driver of the Dodge flipped the couple off, which the victim's girlfriend "in turn raised her middle finger at [the suspect.]"
A short time later, investigators allege that the suspect followed the couple and pointed a gun at the couple.
"One person was honking at the other, to let them know they're waiting to get by," said MSgt. Gary Knight, with the Oklahoma City Police Department. "And for whatever reason, tempers flared and a gun ended up being produced."
Authorities were able to identify the alleged suspect as an Okarche reserve officer.
Okarche Police Chief Mark Sterling told News 4 the officer resigned from his reserve officer position with the police department and turned in his uniform and badge.
On Friday, an arrest warrant was issued for the former reserve officer, who was identified as 29-year-old Loggan Johnson.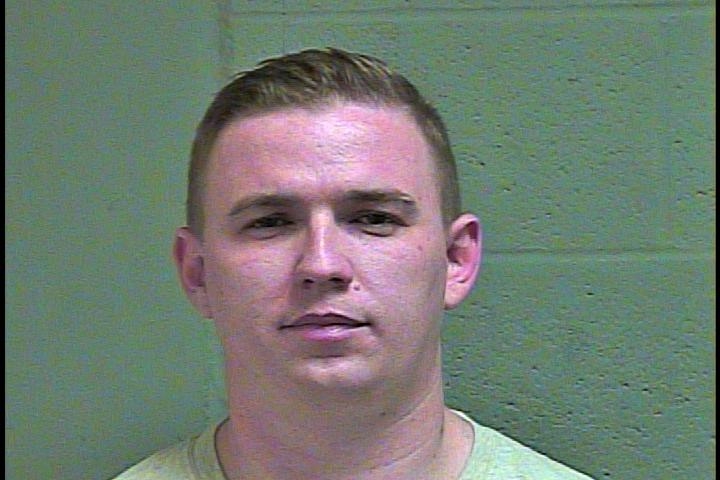 Johnson was arrested on four counts of pointing a firearm at another.
Irven Box, Johnson's attorney, told News 4 earlier this month that he was waiting on police reports and witness statements from police.
"I do represent him and am trying to gather information about the investigation," Box said, declining to speak on camera about the case at this time. "All I know is what my client told me."