This is an archived article and the information in the article may be outdated. Please look at the time stamp on the story to see when it was last updated.
WEWOKA, Okla. - A former Wewoka police officer is being accused of raping a 15-year-old girl and committing other sexual acts with her while on duty.
After an investigation, the Oklahoma Attorney General's Office uncovered the former police officer performed sexual acts with a minor.
Officials say 30-year-old Trever Blackwell, who was 27 at the time of the alleged crimes, is facing one felony count of second degree rape as a result of having sexual intercourse with a 15-year-old girl between August 2011 and January 2012.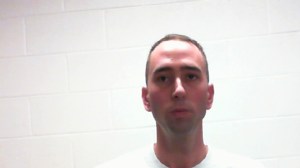 He also faces two counts of lewd/indecent acts with a minor and one count of transmitting information by computer for purposes of instigating sexual conduct with a minor. Officials say these crimes occurred between May 2011 and January 2012.
According to the Oklahoma Attorney General's Office, these crimes took place while the victim was participating in the Wewoka Police Department's Explorer Program, which was intended to show students the benefits of becoming a police officer.
Officials say some of these crimes occurred while the victim was riding in Blackwell's patrol car as a part of the program.
"That's what makes it so egregious, is that the citizens, the parents of the community, allow these kids to spend time with this officer and the officer was using it as a way to prey upon children," said Attorney General Scott Pruitt.
According to the Tulsa World, the victim said the pair began communicating through text and Facebook messages. She told investigators that Blackwell told her he loved her and wanted to marry her.
She also told investigators she first had sex with Blackwell on the back of his patrol car in August 2011 while she was on a ride-along.  She also said they engaged in other sexual acts while he was on duty.
"Can you imagine how that young lady felt as far as her willingness to eventually come forward?" asked Pruitt. "It took tremendous courage."
Tulsa World reports Blackwell spent "about 20 minutes" in Seminole County custody before posting $20,00 bond.
If convicted, the former police officer faces up to 15 years in prison for the first count, up to 20 years for the second and third count and up to 10 years for the fourth count.