This is an archived article and the information in the article may be outdated. Please look at the time stamp on the story to see when it was last updated.
OKLAHOMA CITY – A former state senator convicted of child sex trafficking was sentenced to prison Monday.
A federal court sentenced 36-year-old Ralph Shortey to 15 years in prison, along with 10 years to be supervised when he is released.
Shortey pleaded guilty last fall to child sex trafficking; prosecutors dismissed three child pornography charges as part of a plea agreement.
In March 2017, Shortey, who was then an Oklahoma state senator, was found at Moore hotel with a 17-year-old boy.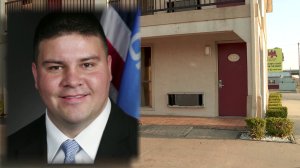 When police went to check on a juvenile at the Super 8 in Moore, officers said they smelled a "strong odor of raw marijuana" coming from Room 120.
According to an affidavit, the teen told authorities that he and Shortey had known each other for about one year.  He said they originally met last year through a Craigslist personal encounter ad. Shortey told detectives he met the teen through a coffee shop he owns, and learned that the teen had dropped out of high school.
"When we first met, I was trying to help him study and get his GED," Shortey said on an interrogation tape.
Shortey told detectives that the young man was supposed to take a test for his GED the next day, and had asked him to come pick him up.
"The night that he called me, he just said that he needed to get out of his house. I'm assuming, I thought that he'd told me that he lived with some friends and he had told me in the past that it was hard for him to get clean because he was always with his friends, living with them. So when he called and said that he needed to get out of there, that he had a test the next day, then the choice was bring him over to my house, which I don't think my wife would have appreciated that. She probably would have been OK with it, but I just figured it'd be easier just to get him another place. And we just decided to talk," Shortey said.
However, officials with the Moore Police Department weren't buying his story.
The teen's Kindle tablet revealed the boy had told the man who went by the name of 'Jamie Tilley' that he needed money for spring break, to which the adult, believed to be Shortey, responded, "Would you be interested in 'sexual' stuff?"
"He offered him money for sexual contact, he then picked up that minor and took him to a hotel for that purpose," Susan Caswell, Cleveland County first assistant district attorney, told KFOR after charges were filed.
A federal indictment that was unsealed in September shows that Shortey was charged in federal court with two counts of transportation of child pornography, production of child pornography and child sex trafficking.
Shortey ultimately pleaded guilty to child sex trafficking in exchange for the other charges to be dropped.