This is an archived article and the information in the article may be outdated. Please look at the time stamp on the story to see when it was last updated.
OKLAHOMA CITY -- An Oklahoma City man makes a big league find, 50 years in the making.
Former OU baseball player Charles Pugsley thought his 1951 College World Series ring was gone forever after losing it in the early 70's. That was until he started preparing a lifetime of belongings for an estate sale.
Charles Pugsley was a center fielder for the baseball team and guard for the basketball team, but it was his baseball team that took home the prize in 1951.
"We were the first team in history to have won all of the games we played up there to win the tournament," says Pugsley.
The College World Series champions were given this ring to remember their winning season by.
A short time later Pugsley took the ring off to play golf, and that's when it disappeared.
It was gone for so long; he admits he forgot all about it until they recently moved into a retirement community and Matt McNeil with Oklahoma City Estate Sales started preparing to sell 40 years' worth of belongings.
A hidden gem stood amongst all the china and trinkets.
"As I was cleaning out the contents like I said I could see a ripple where the shelf paper had buckled up within the drawer," says Matt McNeil. "There beneath it I felt something hard and I thought, 'Oh what is that?' Well it's a ring."
A ring that was not for sale.
McNeil says, "Yeah it was definitely a NCAA ring."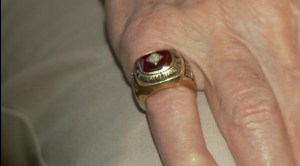 Right under Pugsley's nose for 40 years.
Overjoyed by McNeil's find, the proud athlete looks back at the 1950's with an even bigger smile now as he slips the ring on his finger once again.
Pugsley says, "My heart was warm."
Today he doesn't make it to too many games, but he makes sure to keep up with team from the comfort of his home.
His family's estate sale is set for Saturday, Nov. 23. Click here for more information.