This is an archived article and the information in the article may be outdated. Please look at the time stamp on the story to see when it was last updated.
OKLAHOMA CITY -- A former college baseball player has turned to social media after he says a coveted ring was stolen from his home.
Ryan Gibson lives on NW 62nd Terrace with his two roommates. They have lived in their home for just over a year and have never had issues until this past Monday. Gibson recalled his roommate calling him while he was at work.
"He said that we've been broken into, I was a little in disbelief at first. I came home right home,  and they literally kicked in the middle of our front door and glass and wood were all over our entry way. They went through all of our stuff and took lots," he said. "You lose that peace of mind knowing that somebody's been through your stuff."
Gibson said most of the stolen items are replaceable, including electronics and items that would generally include serial numbers which could potentially be tracked.
However, Gibson's prized College World Series ring was also stolen. He earned the ring in 2010 when he played on the baseball team for the University of Oklahoma. The Sooners' run for a national title took place during the final College World Series at Rosenblatt Stadium.
"It's an incredible honor to get to go, and it's just a testament to your team's hard work and dedication that you put in to get to go and play in that," he said.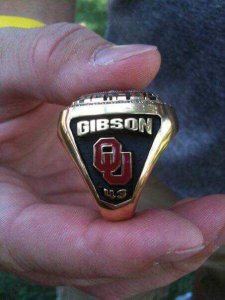 The gold ring donned with diamonds has distinctive features, including the College World Series logo, Gibson's name and his uniform number '43'.
Gibson's search now includes thousands, some of whom are complete strangers. He posted what happened on Facebook this weekend asking for the public to keep a lookout if they are surfing online market places.
The post has gotten more than 7,100 shares as of Sunday. He told News 4 the response has far exceeded his expectations.
"I think people shared it and then friends of friends shared it and then it's gone absolutely crazy. I've got people all over the nation saying they've shared it in Georgia, Kentucky, Tennessee, Florida, California, all of it," he said. "I think it shows there's still definitely good people out there."
Gibson said if anyone does happen to spot the ring online or has any information to contact him.