This is an archived article and the information in the article may be outdated. Please look at the time stamp on the story to see when it was last updated.
UPDATE: The dog referenced in the story below has already found a home. He went to a family that lost their home in the Moore tornado. On top of that, it is their wedding anniversary Friday and their friends are presenting them a very "dog-centric" gift pack.
NORMAN, Okla. – Coach Barry Switzer has a new best friend after rescuing a dog from a hot car earlier this week.
Shanna Williams with the Canine Sports Academy in Norman said the former Sooners coach saved "Sassy," a Rottweiler, from a hot van.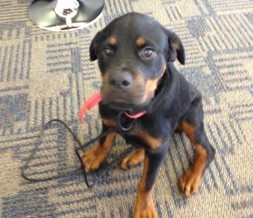 Switzer said he saw the dog in the vehicle, which had the windows down, but still felt bad for the pup.
He took "Sassy" from the vehicle, found the owners and bought the dog from them on the spot.
Then he took her to a vet for a complete check up.
"I told the doc. I want rabies shots, check for worms, everything," Switzer said. "They even clipped the toenails so it was a pedicure for her. She went to the spa."
Switzer took the Rottweiler home to meet his four-legged crew.
He is now calling the pup "Stella" while he hand-picks the new owners.
"I want some loving family who loves dogs and cares about dogs like I do to be able to have her," Switzer said.
This little guy and Switzer's German Shepherd, "Sieger" seem to be getting along just fine.