This is an archived article and the information in the article may be outdated. Please look at the time stamp on the story to see when it was last updated.
UPDATE: A former state representative was released from prison after being convicted of political bribery.
Prosecutors alleged former state Rep. Randy  Terrill, a Republican, offered former state Sen. Debbie Leftwich, a Democrat, an $80,000-a-year job at the State Medical Examiner's office in 2010 so she would not run for re-election.
A jury convicted Terrill in October 2013.
On Aug. 31, 2015, Terrill was fitted with a GPS unit and was released from prison.
Officials say he will serve the rest of his sentence with the GPS monitor. Once his sentence ends on Jan. 16, he will be on probation for one year.
OKLAHOMA CITY – Former State Representative Randy Terrill turned himself into authorities Friday morning to begin service his sentence for his political bribery conviction.
Randy Terrill's surrender comes exactly one week after the Oklahoma Court of Criminal Appeals upheld his conviction.
He will be transferred to a state prison where he will serve one year for the crime.
He also has to pay a $5,000 fine.
His co-defendant, former State Senator Debbe Leftwich, is serving one year of probation.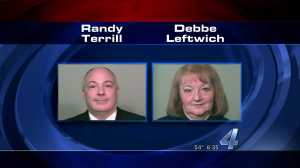 Under a special agreement with the state, she is not allowed to ever run for office again or hold a state job in Oklahoma.
She will also not receive her state retirement.