This is an archived article and the information in the article may be outdated. Please look at the time stamp on the story to see when it was last updated.
BEAR CREEK, Penn. (WNEP) – A life-size statue of President Obama usually sits on Tiffany Bruce's front porch.
"That statue was actually $1,249," Bruce said.
It's become a staple in the neighborhood but recently went missing from its usual spot.
"I peeked my head out the door and Obama's gone and I kind of went into a panic. I couldn't breathe, and I had to go to the hospital," said Bruce.
Fortunately, the Obama statue was discovered and it seems it just went for a little bit of a joyride.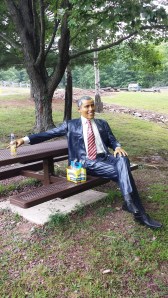 The missing decoration was found at the Francis E. Walter Dam, sitting on a bench and holding a beer.
For more information, visit WNEP's website.