This is an archived article and the information in the article may be outdated. Please look at the time stamp on the story to see when it was last updated.
OKLAHOMA – The U.S. Geological survey recorded four earthquakes Saturday morning in Central Oklahoma.
The first recorded quake had a magnitude of 3.7 around 4:30 a.m.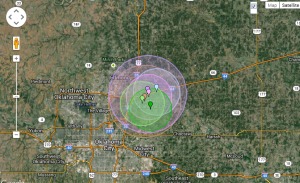 The epicenter was a few miles east of Edmond 8 miles northwest of Choctaw.
Around 5:40 a.m. another earthquake was recorded with a 2.6 magnitude. Its epicenter was located a few miles north of Spencer Oklahoma.
At 7:00 a.m. a 2.7 magnitude earthquake, located near Jones was recorded.
The last earthquake recorded Saturday morning was around 9:20 a.m. It was located in the Spencer area of Oklahoma City area once again.
According to Popular science, "since 2009 more than 200 earthquakes have shaken Oklahoma."
The USGS says it is working with the Oklahoma Geological Survey to determine further what is triggering these earthquake swarms.