This is an archived article and the information in the article may be outdated. Please look at the time stamp on the story to see when it was last updated.
This weekend you can get some free gear at a hockey game, score amazing vacation bargains and have a chance to win free tickets to a home and garden show.
If you're looking for a little excitement Friday night, head to the OKC Barons hockey game.
It's starts at 7 p.m.
The first 2,000 fans through the doors get a free OKC Barons hockey stick.
If you can't make it Friday night, Saturday night we are partnering with them to giveaway a new car!
Just enter here for your chance to win a 2013 Ford Edge.
Also, Saturday and Sunday nights get great concession specials lie $1 hot dog and $1 soft drinks and stay after the game to skate for free.
Looking to take a vacation anytime soon?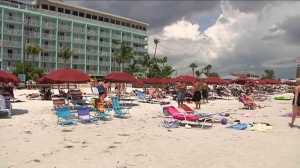 Get some great ideas and discounts at AAA's Travel Extravaganza Sunday.
It's just $2 for AAA members and $4 for non-members at the Quail Creek Golf and Country Club.
Score door prizes, enjoy snacks and get travel deals only available at the show.
If you want to control your own getaway, check out the Original Free RV, Boat and Outdoor Leisure Show through Sunday.
Like it says in the name, it's free at State Fair Park.
Check out RVs, boats, kayaks, sail boats and other outdoor leisure gear.
Also meet with experts on all kinds of travel and leisure products.
Don't miss the gas-converted boat and RV.
Thinking about remodeling? Then the OKC Home and Garden Show is where you want to be.
We are giving away tickets on Frugal Friday so you and your family can go for free!
Watch Frugal Friday at 6 p.m. to find out how to enter.
The OKC Home and Garden Show is Jan. 18 through Jan. 20. at State Fair Park.
This year's special guest is celebrity landscaper and TV host Ahmed Hassan; former host of Yard Crashers.
If you don't win the free tickets, you can save $2 by purchasing them online in advance.