This is an archived article and the information in the article may be outdated. Please look at the time stamp on the story to see when it was last updated.
OKLAHOMA CITY -  Did you see the sign?  Gas prices have officially dropped below $2 in Oklahoma!
Check out this sign from an OnCue gas station in Oklahoma City.
It shows gas priced at $1.99.
@kfor #gaswar in progress @ SE44th & Shields. @OnCue E-10 is $1.99! pic.twitter.com/y3X0g27vuD

— Marc Dillard (@F5Video) December 3, 2014
The reduced gas prices could mean extra green in the pockets of holiday shoppers!
While some gas stations in the metro may not be under 2 bucks yet, they are close.
Some stations are less than 25 cents away.
The price of gas has dropped to its lowest point in nearly five years.
Line wrapped around #OKC OnCue for $1.99 gas! @kfor pic.twitter.com/VHkMm0S0Fs

— Adam Snider (@AdamSniderNews) December 4, 2014
According to CNN Money, Tom Kloza, chief oil analyst for the Oil Price Information Service and GasBuddy.com, other parts of the nation will soon see similarly cheap gas prices.
Kloza said Oklahoma, with a combination of low wholesale prices and low state gas taxes, is the epicenter of cheap gasoline right now. Several other stations in Oklahoma City are charging less than $2.10 a gallon already.
Tumbling crude oil prices are continuing to put downward pressure on pump prices with drivers in Oklahoma now paying the fifth-lowest retail prices in the nation.
"Since hitting its 2014 high of $3.53 in late June, the Oklahoma average has plummeted nearly a dollar," said Chuck Mai, spokesman for AAA Oklahoma. "And it appears pump prices are poised to continue to drop this holiday season. Many Oklahomans may be enjoying $2.00 gas for Christmas. A handful of stations in the Oklahoma City area are already less than a quarter away."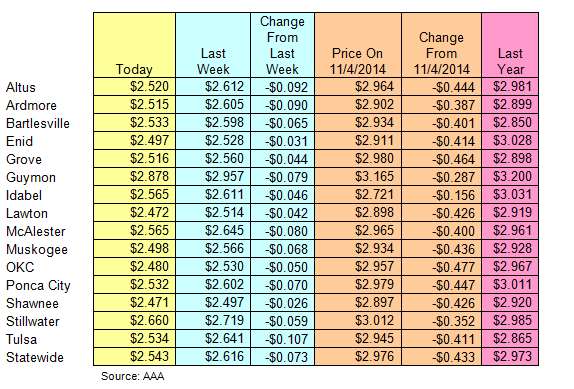 Month-over-month, the average price is down in every state. Drivers in 17 states are saving more than a quarter per gallon. The graphic, below, compares the price average on Dec. 1, 2014 with the average on Nov. 1, 2014. (As the chart, above, shows, Oklahoma's average Dec. 2, 2014, was $2.54.)