This is an archived article and the information in the article may be outdated. Please look at the time stamp on the story to see when it was last updated.
OKLAHOMA CITY — The general counsel for the state health department has resigned, officials have confirmed.
Julie Ezell resigned as a general counsel for the Oklahoma State Health Department effective immediately amid a criminal investigation by the Oklahoma State Bureau of Investigation.
Investigators with OSBI say Ezell created a fake account which she used to send herself threatening emails and later reported to the agency. Emails, according to OSBI agent Jordan Solorzano, were sent once or sometimes twice a day for about four days.
"These emails appeared to be directly directed at Ms. Ezell saying that we will expose your corruption and evil, we would hate to hurt a pretty lady, things of that nature," according to Agent Solorzano. "The OSBI takes threats to public officials very seriously. For this case, nine OSBI agents, three Edmond police officers and two officers with the Oklahoma Health Sciences center were assigned to this case to ensure her [Ezell] safety to and from home, to and from work."
According to the affidavit, the string of emails began on July 8. That was two days before Ezell presented emergency rules on medical marijuana to the Board of Health. The board later approved two controversial amendments Ezell advised against, banning the sale of smokeable medical marijuana and requiring pharmacists on-site of dispensaries.
One of the emails allegedly sent by Ezell from the account "MaryJame@protonmail.com" stated "you won't be able to ignore us today. Check yourself." On the same day, the board approved the new emergency rules, investigators say Ezell sent another email to herself stating "You impose laws like a dictator and respect none of them."
Ezell also allegedly sent herself an email on July 11, which read "you appear distinguished in glasses. Wear them for the camera."
"Multiple interviews were conducted, an examination of a cell phone was conducted, the evidence traced itself back to Julie Ezell," according to Solorzano.
According to court documents, Ezell admitted to sending herself the emails last Friday two hours before her resignation was accepted by Interim Health Commissioner Tom Bates. The email to Commissioner Bates ended with Ezell stated "I am so sorry."
She faces three total charges: Using access to computers to violate Oklahoma statutes, false reports of crime, and false preparation of exhibits as evidence.
Ezell turned herself in to the Oklahoma County jail on Tuesday.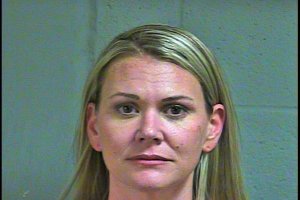 Her attorney Ed Blau, sent News 4 this statement:
"We are aware of the charges filed today by the Oklahoma County District Attorney. Julie Ezell has worked as a loyal and dedicated public servant her entire career as a lawyer. These charges do not reflect who she is as a person, nor do they reflect the type of advocate she has been for the people of the State of Oklahoma. These allegations will be answered, and additional relevant information will be provided by us at the appropriate time."
Michael McNutt, Communications Director for the Office Governor Mary Fallin issued this statement Tuesday evening:
"The governor is reviewing the charges. She respects the criminal justice system, and it should be allowed time to work as designed."