This is an archived article and the information in the article may be outdated. Please look at the time stamp on the story to see when it was last updated.
BRAHAM, Minn. – A Minnesota man is being called a hero after he saved a police officer from a burning squad car and a family from the wreckage of their SUV following an accident.
As officer Paul Dial, with the Braham Police Department, was driving near a dangerous intersection, he became the victim of the crime he was trying to prevent.
The area is known for drivers speeding through stop signs without even slowing down.
An SUV ran the stop sign and slammed right into Dial's police car.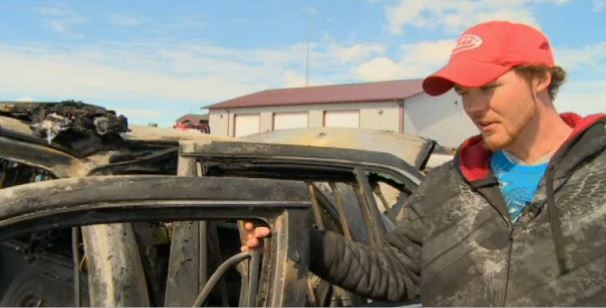 The SUV rolled onto its side and the patrol car immediately burst into flames with the officer still inside.
Ryan Smith, who lives across the street from the intersection, ran from his home to help when he heard a loud bang.
Even though he wasn't wearing any shoes, he was able to pull the officer out of the burning car.
He said, "If I didn't react like I did, he probably would've been in there and not coming out."
The officer suffered a few injuries and is now recovering at home.
The woman who sped through the stop sign had two children in the backseat.
Smith said, "I jumped up on, I think it was this side here."
Smith was able to get them out of their vehicle as well.
Following the crash, the driver received a citation for distracted driving.