This is an archived article and the information in the article may be outdated. Please look at the time stamp on the story to see when it was last updated.
CHICAGO (CNN) – The billionaire founder of Beanie Babies was sentenced for tax evasion on Tuesday.
Ty Warner may have cheated on his taxes for several years but the billionaire's charitable works and generous contributions saved the 61-year-old from serving time in prison.
Warner was sentenced to two years' probation and 500 hours of community service.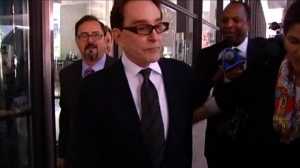 In court, he apologized for his conduct and said he was thankful and overwhelmed by all the letters of support from 70 charities that he helped.
Judge Charles Kocoras said, "Society will be best served by allowing him to continue to do his good works."
Prosecutors argued that anything less than prison time would encourage the wealthy who cheat on their taxes to simply write checks and face no punishment.
The very private Warner paid all of his back taxes and a $53 million fine.
Forbes recently put his net worth at $2.6 billion.