This is an archived article and the information in the article may be outdated. Please look at the time stamp on the story to see when it was last updated.
SULPHUR, Okla. - The effects of a federal government shutdown are trickling their way down to one of Oklahoma's most beloved national recreational areas.
The Chickasaw National Recreational Area in Sulphur is closed temporarily until Congress can agree on a budget.
The park is locked and barricaded and events have all been canceled.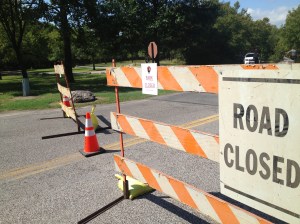 Employees turned away hunters and told campers they had to leave.
Bruce Noble, superintendent of the Chickasaw National Recreational Area, says,  "I guess the thing I would say to everybody is we're sorry!"
Shelly Sawatzky, with Sulphur's Chamber of Commerce, says, "They're not angry at the park. They're not angry at me. They're angry at the federal government."
Rangers at the Chickasaw National Recreational Area say it is with a heavy heart they closed the gates.
They understand visitors' frustration and they share it.
Jackie Lacy says,  "I am devastated! I am sickened! God put this here before the government and it's wrong!"
Noble and Sawatzky are not just worried about the park but also the economy.
"Lodging, retail, restaurants, the local grocery store," says Sawatzky. "This impacts every aspect of the lives of people here in Sulphur."
This time of year is usually busy for the multipurpose recreational area.
Officials say empty campgrounds and an empty lake means funds from the National Park Service aren't coming in and park rangers are being sent home.
"They're our friends and neighbors," says Sawatzky. "Now they are out of work."
Sawatzky and Noble say for them, this isn't just about disagreements in Washington.
The reality of the situation hits home.
Noble says, "I'm sure they've seen the news about the government shutdown but they don't connect what they see on the news to their own lives here in Oklahoma."
Park officials say the gates will not open and park rangers will not return to work until Congress works out a budget deal.
Before the shutdown, visitors could enjoy hiking, camping, boating, fishing and many other activities in the Chickasaw National Recreational Area.