This is an archived article and the information in the article may be outdated. Please look at the time stamp on the story to see when it was last updated.
OKLAHOMA – Governor Mary Fallin issued a two-week burn ban for most of the state due to extreme weather conditions and high fire danger Friday afternoon.
The governor's burn ban supersedes all county burn bans currently in place.
It will expire February 24, 2017.
The ban covers the following counties: Adair, Atoka, Canadian, Carter, Cherokee, Choctaw, Cleveland, Coal, Craig, Creek, Delaware, Garfield, Garvin, Grady, Grant, Haskell, Hughes, Jefferson, Johnston, Kay, Kingfisher, Latimer, Le Flore, Lincoln, Logan, Love, McClain, McCurtain, McIntosh, Marshall, Mayes, Murray, Muskogee, Noble, Nowata, Okfuskee, Oklahoma, Okmulgee, Osage, Ottawa, Pawnee, Payne, Pittsburg, Pontotoc, Pottawatomie, Pushmataha, Rogers, Seminole, Sequoyah, Stephens, Tulsa, Wagoner and Washington.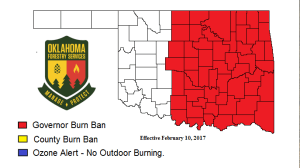 Unlawful activities under the ban include: campfires, bonfires, and setting fire to any forest, grass, woods, wildlands or marshes, as well as igniting fireworks, burning trash or other materials outdoors.
As part of the governor's burn ban, there are exemptions for a number of items, such as welding and road construction.
Click here for specific information and details.
"Critical fire weather and worsening drought have created conditions very conducive to wildfires," said Fallin. "A burn ban is now necessary to reduce the risk of preventable wildfires and to protect lives and property."
Governor issues two-week burn ban for 53 counties. Unlawful activities under the ban include campfires, bonfires,… https://t.co/EUBcm0Y6vG

— OK Forestry Services (@OKForestService) February 10, 2017