This is an archived article and the information in the article may be outdated. Please look at the time stamp on the story to see when it was last updated.
OKLAHOMA CITY – Governor Mary Fallin vetoed "most of the revised budget bill approved by legislators in special session."
Governor Fallin said in a press release Friday evening that she kept part of the bill intact that temporarily "preserves funding for key health and human services until lawmakers return in another special session to approve long-term funding solutions."
[protected-iframe id="56eae002bf60b46ae759d39a8c9bd843-29519643-98557584″ info="https://www.facebook.com/plugins/video.php?href=https%3A%2F%2Fwww.facebook.com%2FGovernorMaryFallin%2Fvideos%2F2181037768588737%2F&show_text=0&width=560″ width="560″ height="315″ frameborder="0″ style="border: none; overflow: hidden;" scrolling="no"]
"House Bill 1019X does not provide a long-term solution to the re-occurring budget deficits, and within three months we will come back facing an estimated $600 million shortfall," she said. "My action avoids immediate health and human services cuts and provides time for legislators to come back and approve revenue proposals that can provide a permanent fix."
She vetoed all but five of the 170 sections contained in the House Bill 1019X, that was passed by the Senate Friday morning by a vote of 29 to 14.
House Bill 1019X included $60 million worth of cuts across various state agencies while also using $23 million in Rainy Day funds, $23 million in carryover cash from last year, and $60 million through revolving money to bridge the $215 million gap. The overall plan also included a recently passed measure to raise the gross production tax ('GPT') on legacy wells.
There would have also been cuts to the three agencies that would have received $215 million from the cigarette fee, which was deemed unconstitutional by the Oklahoma Supreme Court.
Those agencies include the Department of Human Services, the Oklahoma Healthcare Authority, and the Department of Mental Health and Substance Abuse Services.
"Fallin's action keeps intact a $30 million emergency appropriation to the Department of Health, which will allow the agency to make its next payroll and be funded without cuts through the remainder of this fiscal year, which ends June 30," a press release states.
Her veto will do away with $60 million in cuts to state agencies and use $60 million from revolving funds. The use of more than half of the state's $83 million in cash reserves will be reduced because of her line-item veto.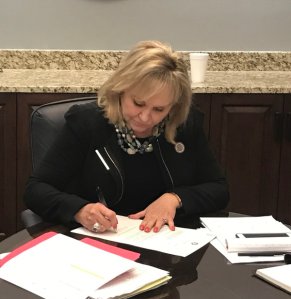 "As governor, I would like nothing more than to adequately fund agencies. The constant budget crisis has put us in survival mode. I want us to thrive. We will thrive when we can adequately and consistently fund our core services. That will happen when we find sustainable and predictable revenue sources."
Also under this bill, higher education would have to take a $17 million hit while the Department of Education, Election Board, and the Department of Corrections would be among those remaining unchanged.​
Senate President Pro Tempore Mike Schulz, R-Altus released a statement following the governor's veto saying:
"We are surprised by the governor's veto. The governor's office was involved in the negotiation of the revised budget agreement, but did not indicate the agreement was insufficient and would be vetoed. The revised budget agreement was not the Senate's first choice to resolve the budget crisis but it was the only option after the House showed it was not able to meet the constitutional standards of raising revenue. Bringing the Legislature back into special session at this point seems like a waste of time and taxpayer dollars. The governor's veto doesn't help Oklahoma thrive, it only serves to throw our budget further into chaos."
It is unclear when Governor Fallin will call a second special session, but News 4 is being told is will be before the start of the next regular session in February.