This is an archived article and the information in the article may be outdated. Please look at the time stamp on the story to see when it was last updated.
OKLAHOMA CITY – Governor Mary Fallin signed the $6.8 billion budget bill, Senate Bill 860, into law Wednesday.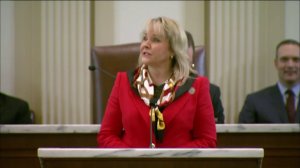 Oklahoma is currently facing a nearly $900 million shortfall in the state's budget.
SB 860 shows that 51 agencies will have some type of cut, 16 will see appropriations increase, and one will see no funding change for the fiscal year 2017 to fiscal year 2018.
The Department of Education is expected to see a one percent increase in funding while other education agencies will decrease between 3.42 to 4.87 percent.
The 2018 fiscal year appropriated budget will be $6,830,177,825, making it $37,782,641 less than the revised fiscal year 2017 appropriated budget that includes supplementals and revenue failure.
"Developing a budget in this difficult fiscal and political climate is never easy," said Fallin. "This plan keeps our government from shutting down and, despite challenging circumstances, funds our core mission services. We worked hard to protect key core services – common education, health and human services and public safety. This budget minimizes cuts and puts some recurring revenue on the table. It repeals certain exemptions in the sales tax code.
Adding a $1.50 fee on cigarette packs was part of the budget bill.
"As this year's session ends, I'm pleased that legislators approved a fee on cigarettes. Smoking is Oklahoma's leading cause of preventable death. Lawmakers approving an additional $1.50 per pack is the most important thing they could do to improve Oklahoma's health ranking," Fallin said.
Lawmakers spent the last several days of the legislative session pushing through bills that would bring in revenue, but many are saying that is unconstitutional.
The Oklahoma Constitution states "no revenue bill should be passed during the five last days of session." It also adds, no revenue bill can become law without a vote of the people or a three-fourths vote.
If the court finds the bills to be unconstitutional, lawmakers will have to find another way to raise the money to fill the budget hole, meaning a special session could take place.
A special session would cost $30,000 per day.
"If the legislators say I don't want to come back into special session, I tried to get them back in this past fall for teacher pay raise and they told me no, I don't want to come back in. So if they tell me they don't want to come back in, we'll just have to have automatic cuts, it'll be across the board by the way," said Governor Fallin.