This is an archived article and the information in the article may be outdated. Please look at the time stamp on the story to see when it was last updated.
LOS ANGELES –  The grandparents of 13 starved and tortured children say their son's family looked happy and healthy when they last visited California six years ago.
Betty and James Turpin of Princeton, West Virginia say they were in shock when they learned of the arrest of their son David Turpin and his wife, Louise Turpin this week.
They told the Southern California News Group that their grandchildren all called each other "sweetie" when they visited their home in Murrieta, California six years ago, and none of them appeared malnourished.
Betty Turpin says her son told her he had so many kids because God wanted him to. She says her son shared her Pentecostal Christian faith but he wasn't affiliated with a church in California.
David and Louise Turpin are expected to make their first court appearance on Thursday.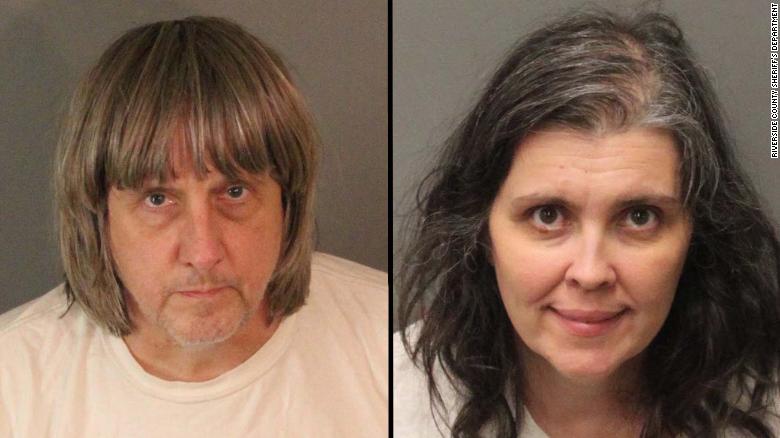 The husband, 57, and wife, 49, are charged with torture and child endangerment after police found their children appearing "malnourished and very dirty" and three of them chained to furniture at their home in Perris. The couple's bail was set at $9 million each.
Conditions inside their house were filthy, as were the siblings, who ranged in age from 2 to 29. Some of them were shackled to their beds with chains and padlocks "in dark and foul-smelling surroundings," authorities said. Although seven of the Turpin children are adults, they were so emaciated they looked like children, police said.
Authorities came to the home after a daring escape by a 17-year-old girl who crawled out of a window and called 911 using a deactivated cell phone she had grabbed from the house. She told officers that her parents were holding her 12 siblings captive and showed them photos, the Riverside County Sheriff's Department said.
When authorities arrived, their mother was "perplexed as to why" they came to her home, said Riverside County Sheriff's Capt. Greg Fellows.
The investigation is ongoing, but the conditions of the Turpin children suggest they've been held captive for a "prolonged period of time," Susan von Zabern, director of the Riverside County Department of Public Social Services, told reporters Tuesday.
Riverside County District Attorney Mike Hestrin is scheduled to hold a news conference Thursday regarding the case. It was not immediately clear if the suspects had attorneys or whether they had entered a plea.