This is an archived article and the information in the article may be outdated. Please look at the time stamp on the story to see when it was last updated.
OKLAHOMA CITY – We're learning more about the circumstances surrounding the violent deaths of an Oklahoma City mother and her 7-year-old son.
On Dec. 17, firefighters were called to a house fire in the 1100 block of N.W. 80th St. after witnesses spotted smoke coming from a nearby home.
While battling the blaze, firefighters discovered two people inside the home.
Officials say they pulled 41-year-old Julie Mason from the home, but it was too late. She was pronounced dead at the scene.
Authorities also discovered 7-year-old Keagon Bruce inside the home.
He was rushed to a nearby hospital, but died from his injuries.
A few days later, officials with the Oklahoma City Police Department said the victims did not die from the fire. Instead, they say they suffered injuries consistent with homicide, adding that their injuries occurred before the fire was set.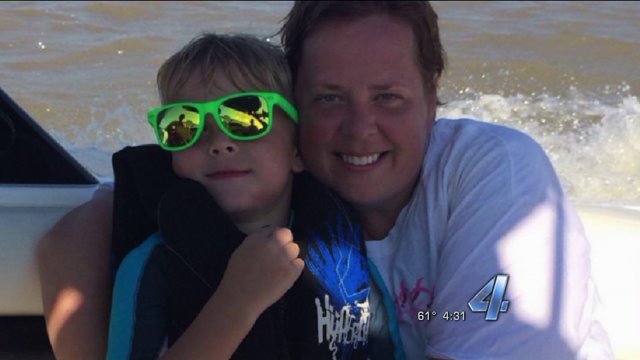 However, the details about how they died were not very clear.
Now, the Oklahoma State Medical Examiner's Office has released Mason's autopsy report, painting a dark picture of what led to the pair's deaths.
The report states that Mason died from sharp force trauma and blunt force trauma across her body, adding that she was stabbed at least 32 times.
It says that Mason suffered "multiple sharp force trauma to the head, neck, torso and upper extremities" adding that the tip of a sharp instrument was found in a wound to her face.
Medical examiners report that she was stabbed 25 times in the back, back of the head or back of the neck. Six stab wounds were consistent with defensive type wounds.
Investigators say that Mason's shirt was covered in blood and smelled of gasoline.
Her manner of death was ruled a homicide.
Previous reports obtained by NewsChannel 4 say that Bruce died from the same kind of blunt force trauma, smoke inhalation and a thermal injury.
However, we are still waiting on the official autopsy report.
So far, no arrests have been made in the case.
"Investigators are still looking into every possible lead to figure out exactly what happened at the house that night,"  Officer Megan Morgan, with the Oklahoma City Police Department, told NewsChannel 4 in December.
If you have any information on this crime, call the Homicide Tipline at (405) 297-1200.