This is an archived article and the information in the article may be outdated. Please look at the time stamp on the story to see when it was last updated.
Warning: This video contains graphic language and events that may be disturbing to some viewers.
TECUMSEH, Okla. - Following the stunning death of an Oklahoma officer, authorities in Pottawatomie County have charged the man believed to be responsible.
On Sunday evening, Officer Justin Terney was shot following a traffic stop for a broken taillight. Officials say Terney was rushed to an area hospital and underwent surgery.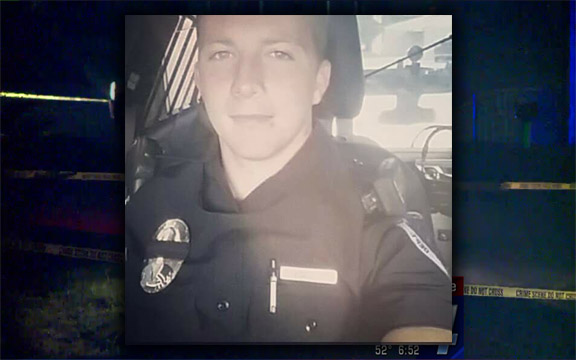 Sadly, Terney died on Monday morning from his injuries.
On Wednesday, Pottawatomie County District Attorney Richard Smothermon charged 36-year-old Byron Shepard with one count of first-degree murder.
Prior to announcing the charges, Smothermon released the dashcam footage from Terney's patrol car of the incident.
Warning: This video contains graphic language and events that may be disturbing to some viewers.
The video begins with Officer Terney following Brooklyn Williams' car for several blocks before turning on his lights.
Williams immediately pulled off to the side of the road.
Officer Terney approaches the car and asks Williams how she is and for her driver's license. However, she said she didn't have her driver's license on her.
Terney then asked the passenger, Byron Shepard, for his driver's license. He admits that he had been arrested about three months ago and had his driver's license taken away.
"What'd you get arrested for?" Officer Terney can be heard asking.
When asked for their names, Shepard can be heard telling Terney that his name is James Bishop.
As Terney is checking their names back in his patrol car, he realizes that 'James Bishop' is not Shepard's real identity.
When he goes back to the car, Terney asks Shepard for his name again and he says it is "James Bunion Bishop."
"I think you're lying to me. Are you lying to me?" Terney asked.
The pair begin small talking and Officer Terney tells Shepard that Williams is going to get a ticket for driving without a license.
When the fake name continues to not bring up any data, Shepard is seen running into a wooded area.
"You're going to get tased," Terney can be heard yelling as other officers chase after them.
At that point, the pair disappear from the dashboard camera's view but Terney's microphone is still recording.
Pottawatomie County District Attorney Richard Smothermon says both of them climbed over a fence shortly before shots were fired.
Terney yells at Shepard to get on the ground, gunshots are heard, and Terney tells dispatch, "I've been hit!"
"Justin Terney did everything right. He did the least evasive things, the least intrusive things. He was a perfect gentleman to both the driver of the vehicle and the suspect until such time that he ran. He did the least intrusive thing by tasing him instead of shooting him as he fled. He did everything right," Smothermon said.
Shepard was shot by Terney 3 times, officials believe after Terney was hit.
Smothermon said Terney wanted to be a police officer since he was 3-years-old and was one of the most liked police officers on the force.
When asked what he wants people to learn from this situation, Smothermon said the attitude toward police officers needs to change.
"You want to second guess what police officers go through every day? You want to second guess the decisions they make? You just saw the split second change from a 'what's your name? I know you're lying to me' to 'I'm chasing you down and I'm in a life and death struggle.' You can't second guess those. You cannot do it. The second thing is, this war on police has got to stop," Smothermon said. "It's just got to stop."
Smotherman says he will wait until emotions are not running so high to decide whether or not to seek the death penalty.
He also says that the full video is much longer, but they have chosen not to release the full video in respect for the family.