This is an archived article and the information in the article may be outdated. Please look at the time stamp on the story to see when it was last updated.
MOORE, Okla. – Three weeks after an EF-5 plowed through Moore, the stories of heroics are still coming to light.
Suzanne Haley's story is one of the more graphic stories of survival and protection.
Haley is a first-grade teacher's aide who shielded a class of young students when the tornado struck Briarwood Elementary.
She put her body in the path of debris that afternoon and suffered a horrific injury to her right leg.
In fact, pictures of Haley's gruesome wound made international headlines and went viral.
She was one of the many hero stories of that day.
Three weeks after the initial injury, Haley talked with NewsChannel 4's Ali Meyer about the storm, the reason she chose to stay at the school that afternoon and her recovery.
This was Suzanne Haley's first year teaching at Briarwood Elementary.
Haley, a teacher's aide, was normally assigned to a first-grade autistic student, who left early Monday May 20th, checked out of school by family because of the approaching storm.
Haley could have left school with her two daughters, Ashlynn, 10, and Miranda, 7.
They had a chance to race home and weather the storm in their home storm shelter.
She chose to stay.
As the storm tracked toward Briarwood Elementary, Haley and first-grade teacher, Leesa Kniffen, moved the desks to the classroom's interior wall.
Fourteen first-graders, along with Haley's two daughters, took cover under the desks, shielded by their teacher and teacher's aide.
"I could hear it. It was like a jet. Then, louder than a jet." remembers Miranda Haley.
"Her teacher (Kniffen) just kept looking at me and saying, 'Do you hear that?'" said Suzanne Haley. "We just braced ourselves and took cover. We prayed it would miss us. But it just kept getting louder and louder."
The lights went dark.
The fire alarm screamed.
Haley remembers the roof peeled off the building, and then the interior wall that was supposed to offer protection collapsed on the first grade class.
The class was buried.
Haley remembers the response from rescuers was immediate.
Miraculously, the entire class, every child, climbed out of the pile of rubble through a tiny hole (pictured below).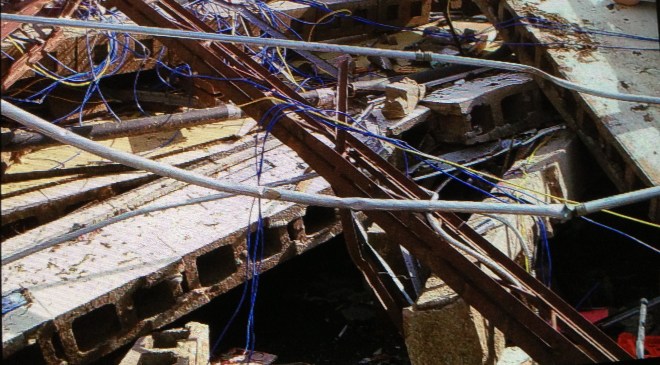 "There was a little tiny hole that we had to climb out." said Haley's oldest daughter, Ashlynn, who came over from her fifth-grade class to ride out the storm with her mom and first-grade sister.

Suzanne Haley could wiggle her toes, but she could not move.
She thought her leg was pinned beneath debris.
"I didn't feel anything go through. I didn't know. I didn't have any idea." said Haley.
Ashlynn got closer and screamed. "Mama, it's through your leg."
Turns out, Suzanne Haley had been impaled by the leg of a student desk, a non-life-threatening but horrific injury.
Doctors say the metal object didn't hit any major arteries; it didn't break the bone; it didn't destroy any vital tissue.
After the class had escaped, Haley unscrewed the desk leg from the desktop so she could inch out of the hole.
Haley rode to the hospital in the bed of a pick-up truck with her leg braced by cinder blocks; her back was being supported by a stranger who had come to help.
"Matt was behind me holding me and bracing me up. He was coming on to his shift at Chili's and heard the school had been hit and took off running to help." said Haley.
Surgeons at Normal Regional Hospital sawed off the metal desk leg and removed it.
Haley kept the leg as a reminder of the horror and the heroics of that day.
She spent about a week in the hospital after surgery.
Then, after she had been released and was recovering at home, infection set in and Haley had to be re-admitted to the hospital for several more days.
She is now back at home.
She cannot walk; she is hooked to a mobile wound vacuum; she goes back to the hospital daily for hyperbaric treatments.
Doctors estimate her recovery will take three to four months.
Despite the setback, Suzanne Haley still feels so blessed.
Her Moore home did not have damage from the tornado.
Her daughters escaped unscathed.
She is proud that her injuries were the worst suffered at Briarwood Elementary School.
"It's just what you do. They (the children) can't protect themselves. You put yourself in the way and know that if something's going to hit, it's going to get us first." said Haley.
She plans on going back to teaching once she's healed
She wants the district to seriously address the lack of storm shelters in schools. "An interior wall isn't going to cut it for these kids next year."
Protection is costly.
Haley is one of many in the community of Moore who know the true cost.
If you would like to help Suzanne Haley, you can donate to the "Suzanne Haley Support Trust" at any Arvest Bank location.
You can also donate to Suzanne Haley at help4suzanne.com.