This is an archived article and the information in the article may be outdated. Please look at the time stamp on the story to see when it was last updated.
EDMOND, Okla. - As the snow began approaching the metro, grocery stores became packed.
Food was flying off the shelves.
People flocked to stores across the metro grabbing whatever they can to make sure whatever happens, they'll be well fed.
Dale Brooks, Crest Operations Manager, said, "We're seeing lots of people in the store."
Shopper Annette Siegel said, "Getting some last-minute things preparing for the weather to get bad."
From milk to bread and bottled water, Edmond residents were stocking up at Crest.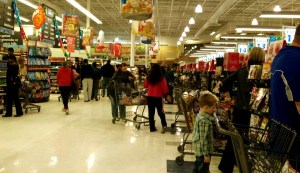 Sunday was the busiest day this store has seen in some time.
Brooks said, "Sunday they just came all day long from early, early to late, late."
All 21 registers were open, getting customers in and out as quickly as possible.
Meanwhile, store employees are working as fast as they can to keep everything stocked, with new shipments coming in Sunday and Monday evening.
Managers said patience will be the key if you still have plans to hit the store.