This is an archived article and the information in the article may be outdated. Please look at the time stamp on the story to see when it was last updated.
UPDATE: On Tuesday, an arrest warrant was issued for George Wesley Gilchrist Jr.
He is facing 13 felony counts of animal cruelty for a case that involved 24 greyhounds being rescued by the Humane Society of Tulsa.
According to the affidavit, officers discovered the animals in need of medical attention.
The report alleges that many of the animals were dehydrated, malnourished and covered in ticks, fleas and maggots.
Warning: Images in this story are disturbing and may not be suitable for all audiences.
GRANT COUNTY, Okla. -- There is an ongoing investigation into gruesome allegations of animal abuse in Grant County.   Deputies were tipped off about animals on a property near Medford, but they could have never prepared themselves for what they found.
Twenty-four dogs were rescued a couple of weeks ago from the property, and one dog was rescued Monday.  The living conditions the dogs were living in were described as "beyond disgusting."
Those fighting for these animals say they want someone held responsible.
"It's the most horrific thing I've ever seen," she said.
The images tell you why. The pictures were taken at a property in Grant County where a number of animals have been seized by the sheriff's office.
"They had around 20,000 fleas on them, each around 50 ticks. They had nothing where they were, but deceased carcass remains," she said.
A witness talked to us today. She didn't want to be identified, but believes the animals are being used for a gruesome purpose.
"It's evident the animals are being butchered on the property. There's dead carcasses everywhere all over the property. The smell is putrid. There's decaying matter everywhere. It's evident he is butchering the meat himself. There are axes and areas where you can see they've been hung upside down.  And you can see many of the bones in the pictures have direct cuts, like they have been cut, most of them," she said.
She believes he could be selling the meat and even using some of the dogs as live bait for coyote trapping.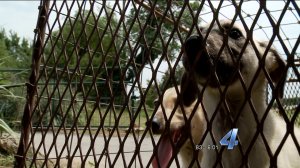 Just a few weeks ago, the Tulsa Humane Society helped rescue 24 greyhounds from the same property where this little guy was found today. They say many of the animals were too weak to stand or walk.
The dog rescued today was in a similar state.
"When he did go to the bathroom, it was evident he had nothing ingested in him but hair and bone," she said.
She says she can't imagine what the pooch has had to go through, and she hopes to help other animals that she says are still on the property.
The Assistant District Attorney says he's received all the information from the Grant County Sheriff's office, but has not made a decision on if the property owner will face charges.