This is an archived article and the information in the article may be outdated. Please look at the time stamp on the story to see when it was last updated.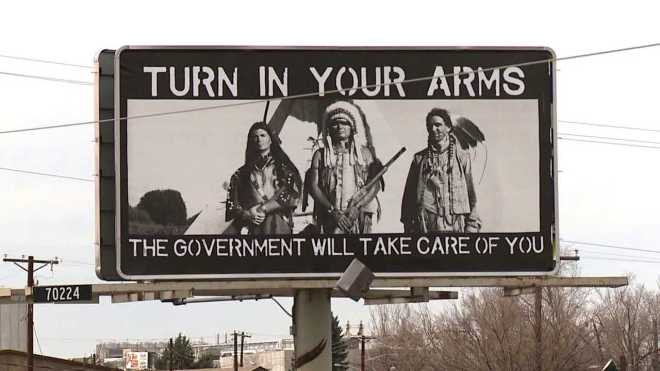 GREENLY, Colo. – The battle over gun control continues in many parts of the country and now a billboard in Colorado is sparking a different kind of controversy.
The billboards show a picture of Native Americans with the words "Turn in your arms… The government will take care of you."
Some Native Americans said the signs are insensitive to a part of history that is still affecting some residents today.
"Native Americans, and I'm not speaking across the board, there are some that are OK with it, there are others that are absolutely not," Kerri Salazar said. "I think it is insensitive because even though what may have happened in the past, people are still living that. Relatives are still living that."
The Colorado residents upset about the billboard said they just want the picture removed from the sign.
The person who purchased the billboard wants to remain anonymous.