This is an archived article and the information in the article may be outdated. Please look at the time stamp on the story to see when it was last updated.
TUSCALOOSA, Ala. -- The gunman accused of opening fire on a crowded bar in Alabama Monday night is in custody.
Seventeen people were hurt, most by gunfire with two critically wounded.
Tuesday, police were still gathering evidence at the Copper Top Bar in Tuscaloosa.
Hours earlier, a gunman, caught on security video and carrying a military assault rifle stood outside the bar and opened fire on those inside.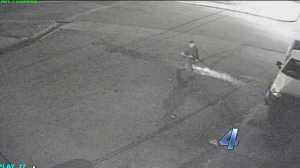 Most of those inside and several of the 17 people injured in the rampage are students from the nearby University of Alabama. 
Witnesses said there were two distinct, separate bursts of gunfire and police believe the gunman had a particular victim in mind when he started shooting. 
Tuscaloosa Police Chief Steve Anderson said, "We believe, based on what we've seen on the video, that there was possibly the targeting of an individual who was inside the bar or who the shooter thought was inside the bar."
After the shooting, the gunman walked back down the street, the same way he arrived.
For the next 12 hours, he became the target of an intense manhunt until he turned
himself in Tuesday afternoon.
He walked into a business in a small town north of Tuscaloosa and told employees he was the one police were looking for. 
Two of the shooting victims remain in intensive care in the hospital in Tuscaloosa, one in critical condition.
- Chris Clackum, NBC News