This is an archived article and the information in the article may be outdated. Please look at the time stamp on the story to see when it was last updated.

UPDATE: Oct. 24 – After one of the Norman High School band buses caught fire on their way to a competition in Lawton, the band has received an outpouring of support.
The band directors issued the following statement:
Dear NHS Band Parents,
As you know, as the marching band was traveling to Lawton for our Regional Marching Contest on Tuesday, we had one of our buses catch fire. I'm sure you've seen pictures in the paper, social media or TV, and I can tell you that pictures don't do it justice….
The upside is that all of our students got off the bus in an orderly manner and were moved a safe distance away from the fire. You can be proud of the manner in which your kids behaved! We very much appreciate the efforts of Seth Coleman, Bus 2 sponsor, in getting the students to safety.
There were about 25 instruments that were lost, including flute, clarinet, alto sax, trumpet, trombone and some school instruments.
The Lawton School District sent a bus to pick up the stranded students and transport them to Cameron University. Upon our arrival, we met with the students as a group and it was decided to go ahead and march as best we could. All of the bands in attendance rushed to offer their assistance. We used a sousaphone from Mustang High School and about 20 instruments from Norman North. We really appreciate the generosity of our neighbors!
As I'm sure you already know, the band performed wonderfully, receiving a rousing ovation from the crowd and a Superior Rating from the judges.
We have received countless calls, texts and emails offering support. We are waiting for word regarding insurance, but in the meantime if you know of anyone who would like to contribute:
Monetary Contributions (check/cash) to:
NHS Band
c/o Jim Meiller
911 W. Main
Norman, OK 73069
Contributions will be used to the benefit of students within the NHS Band Program unless an individual is indicated on the memo line.
A contribution website is being established by the NHBA. More information will be forwarded as it is available.
Instrument Donations – (mostly clarinets and flutes are needed) to PDC (Professional Development Center)
207 East Gray
Norman,OK 73069
Instruments will be used to the benefit of the NPS Band Program unless an individual is indicated on the memo line.
Please feel free to share this information.
Thanks for your kind words of support. We are all overwhelmed by the outpouring of concern and kindness and are doing our best to get over this experience and move on.
On behalf of our students and teachers, THANK YOU!
Jim Meiller
Joel Deardorf
Band Directors
Norman High School

ELGIN, Okla. — One Norman high school comes to the rescue of a rival Norman high school. Norman High School band students were heading to Lawton for a band competition when their school bus had mechanical problems and caught fire. All 43 students and instructors safely evacuated the bus.
20 NHS students had their instruments destroyed. Meanwhile, when rival band, The Norman North Timberwolves found out, they quickly offered to loan their instruments to Norman High School band members for the competition.
They were all headed to a band competition at Cameron University; slated to compete against each other along with other participating bands.
The bus was a complete loss in the fire that closed the southbound lane of the H.E. Bailey Turnpike.
The Norman High School band is expected to perform and then they will be returning to Norman tonight as previously planned.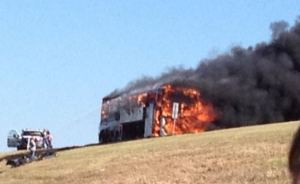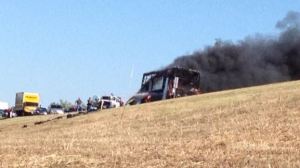 NewsChannel 4 was in Norman as a replacement bus carrying the students, returned after a long day.
As one might imagine, they were happy to get back home with quite a story to tell.
In fact the students say, when the fire first started; there was some confusion as to how serious it really was.
So far, no word on what it will cost to replace the instruments that burned in the fire.
The Oklahoma standard is alive and well with these two high schools.
As for how the students did at today's band competition we're still waiting to find out how they placed.
The H.E. Bailey Turnpike was closed for six hours.