This is an archived article and the information in the article may be outdated. Please look at the time stamp on the story to see when it was last updated.
LANGLEY, British Columbia – When a child loses a baby tooth, it is a sign they are growing up.
Many times, kids will put those teeth under their pillow for the tooth fairy.
Earlier this month, a third grade student at James Hill Elementary School in British Columbia was ecstatic when she lost a tooth in class.
The teacher placed the tooth in a special necklace so she would be able to save it for the tooth fairy that night.
However, her ecstasy quickly turned to distress when she tripped over a step on the playground.
The teacher, the little girl and the principal searched the playground but could not find the missing tooth.
The child was visibly upset the tooth fairy wouldn't visit, so Principal Chris Wejr took matters into his own hands.
According to the Langley Times, Wejr told her he could write a letter to the tooth fairy, explaining the situation.
The letter, which was posted to the school's Facebook page, has been shared over 100 times.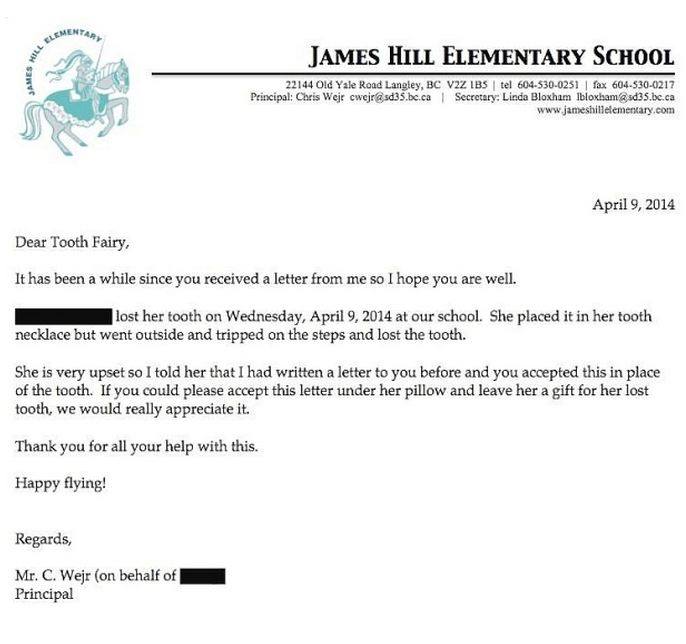 It reads as follows:
"Dear Tooth Fairy,
It has been a while since you received a letter from me so I hope you are well.
[A student] lost her tooth on Wednesday, April 9, 2014 at our school. She placed it in her tooth necklace but went outside and tripped on the steps and lost the tooth.
She is very upset so I told her that I had written a letter to you before and you accepted this in place of the tooth. If you could please accept this letter under her pillow and leave her a gift for her lost tooth, we would really appreciate it.
Thank you for all your help with this.
Happy flying! 
Regards, 
Mr. C. Wejr (on behalf of [student])
Principal."
The next day, the student returned to the principal's office to tell Wejr the tooth fairy had accepted the letter.
The Langley Times says Wejr has been asked if he has any connections with the Easter bunny and the Canadian Revenue Agency.
The school's Facebook page has been flooded with positive responses to the note.
The school said, "Thank you for all the positive comments. These moments happen in classrooms all the time and the response to this letter shows that we need to share these positive moments more often in schools. Great schools are full of great teachers and great kids…with many great moments."