This is an archived article and the information in the article may be outdated. Please look at the time stamp on the story to see when it was last updated.
HARRAH, OK -- Police are hoping the public can identify a burglary suspect that smashed through a glass door at a convenience store to steal one item; cigarettes. Sgt. James Waller says the suspect was caught on surveillance video at Rocky's Place using an object to smash the bottom of the glass door last Friday, about 40 minutes after the store closed.
The suspect can be seen crawling inside the store and walking directly to the cigarette counter. He showed no interest in anything else, including the cash register.
In less than two minutes, he is seen grabbing two cartons and several packs of cigarettes before leaving the area in a charcoal gray Chevy pickup.
Authorities say the alleged thief dropped almost all the packs trying to get back out the door.
However, he made off with two cartons of cigarettes.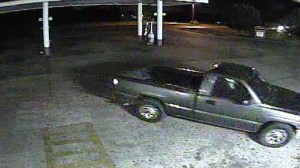 "I believe it's somebody that's been in there before and knew where the item was that he wanted," Waller said, "and came back after closing to get it."
The owner, Rocky Bedard, says the door damage cost more than the stolen cigarettes' value. He will be putting bars on that door to keep it from happening again.
Police say the man was driving a charcoal gray Chevy single cab short-bed pickup truck.
If you have any information on the crime, call Sgt. James Waller at (405) 454-1203.