This is an archived article and the information in the article may be outdated. Please look at the time stamp on the story to see when it was last updated.
LOUISIANA – A Louisiana man claims in a new book that his biological father was the notorious Zodiac Killer of northern California, who's still sought by authorities, publisher HarperCollins said Tuesday.
The Zodiac case has fascinated both the public and Hollywood for years.
But the killer has remained at large ever since the bay area killings began in December of 1968.
Now, in a new book called The Most Dangerous Animal of All, author Gary Stewart, a businessman from Louisiana says he has finally cracked the case.
A search for his biological father, he says, led him to San Francisco to "conclusively identify his father as the Zodiac killer," according to the publisher HarperCollins.
Stewart writes, "I felt it was my responsibility to share the truths that I had learned in a way that would leave no doubt as to the identity of this killer …"
Take a look at this picture of his father, identified as Earl Van Best, Jr., who is now deceased.
Now take a look at this old sketch of the Zodiac.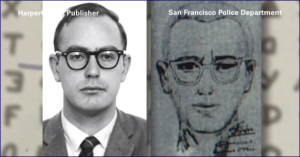 They seem to bear a striking resemblance.
So far, police aren't saying much – in part because others have come forward purporting to name the killer and no credible leads have emerged.
But in his book, Stewart points to this as one powerful peace of evidence. A cipher or cryptogram that was sent to a newspaper with the words, Evbest Jr., the name of his biological father.
Bryan Hartnell was one of the only two survivors who could give a description of the killer. Hartnell has rarely spoken to publicly.
"He had some clip-on glasses that were either affixed to the hood or affixed to glasses underneath," says Hartnell.
On his chest, he also wore what became known as his symbol, crosshairs and a gunsight.
At least five were killed during his year-long spree.
The killer claimed responsibility in a series of letters to newspapers.
He called himself Zodiac.
As the investigation continued, different persons of interest would emerge.
The 2007 film focused on the chase and the clues leading to one suspect named Authur Leigh Allen, a school teacher.
The evidence seemed promising – including Allen's watch with the Zodiac symbol.
But his fingerprints and handwriting didn't match the killer's.
While theories continue to proliferate in books like this one – authorities are still no closer in naming the actual killer than they were decades ago.