This is an archived article and the information in the article may be outdated. Please look at the time stamp on the story to see when it was last updated.
NEW YORK – Could Hatchimals, the most sought-after toy of 2016, fade as a one-hit wonder? Not if creator Spin Master can help it.
Get ready for Hatchimals 2.0.
Hatchimals, the furry interactive toys that self-hatch out of an egg, created a frenzy when they hit the market last August.
Stores quickly sold out of the toy, leaving parents frantically trying to score one in time for the holidays.
"Hatchimals turned into a global phenomenon," said Tara Tucker, vice president of global communications for Spin Master. "The brand was in the market for only four months in 2016, but it sold in 50 countries."
Spin Master is keen to keep the momentum going in 2017 with two new Hatchimal products.
The first is Hatchimals Glitter (priced at $59.99 each), which takes the original Hatchimals concept and adds sparkle.
The eggs contain 'Sparkly Pengualas' and 'Shimmering Draggles' (both with sparkling fur) with new sounds, songs and games.
Hatchimals Glitter will hit stores in July.
"This was a fun result of focus groups where fans told us they wanted to see some sparkle and glitter on the toy," Tucker said.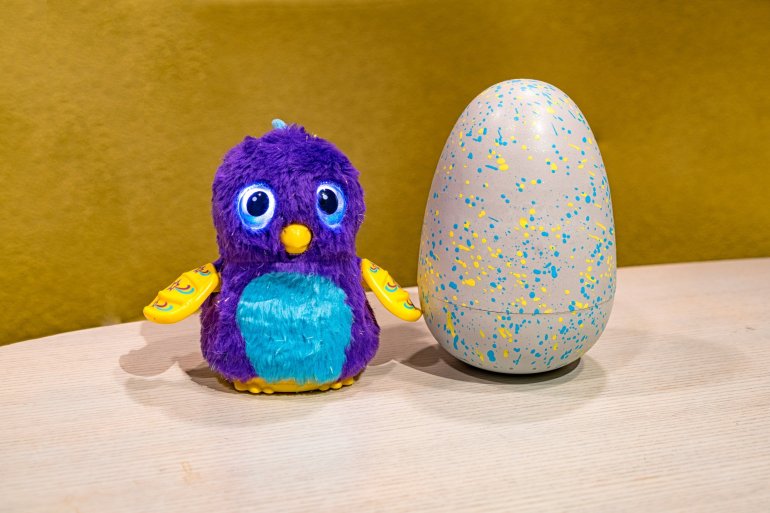 Also new are Hatchimals Colleggtibles, in store in May.
Inspired by the original Hatchimals, these are mini plastic creatures that live inside a mini egg with a large purple heart on it.
Unlike the self-hatching version, kids have to help hatch their Colleggtibles: rub the heart until it changes from purple to pink, which means it's ready to hatch.
Crack open the egg and nestled inside are mystical animal-inspired creatures with glittery wings.
The first run of Colleggtibles will have 70 creatures, including a few limited editions.
The Hatchimals Colleggtibles will be sold in packs ($2.99 for a single and $9.99 for a 4-pack).
The Colleggtibles line taps into kids' obsession with collecting tiny toys – remember the Shopkins craze?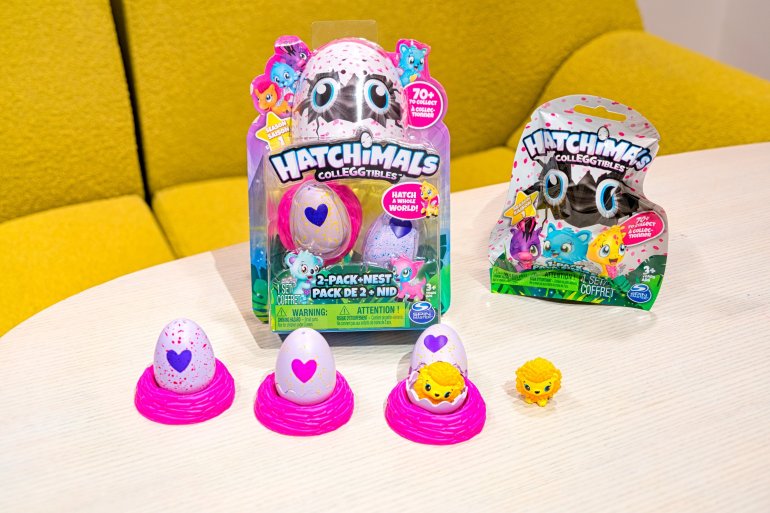 Spin Master has one more Hatchimals surprise coming in October.
"This won't be like Hatchimals as you know it," Tucker said.
Toronto-based Spin Master has made a long-term bet on Hatchimals, with a product pipeline three years out.
The brand is already off to a strong start.
Tucker declined to say exactly how many Hatchimals were sold last year.
Toy industry analyst Jim Silver estimates Spin Master sold two million Hatchimals last year, logging about $80 million in revenue: "Having seen their new Hatchimals products for this year, I think the brand could triple sales to $250 million."
Hatchimals' rapid rise to fame did include some stumbles, however.
Angry parents turned to social media the day after Christmas to complain about the toy malfunctioning.
Tucker said Spin Master received a high volume of calls and emails, but majority of the complaints were resolved and the company received a very small number of returns.
Moving forward, the toymaker is conscious of not letting Hatchimals be a one-trick pony, Tucker said: "We want every day to be a different experience when kids play with their Hatchimals."