This is an archived article and the information in the article may be outdated. Please look at the time stamp on the story to see when it was last updated.
HONOLULU – A mistaken missile alert that caused widespread panic and confusion in Hawaii has led to the resignation of the state's emergency management leader and the firing of the worker who sent the false warning.
Maj. Gen. Joe Logan, the state adjutant general, says Hawaii Emergency Management Agency administrator Vern Miyagi resigned Tuesday.
The employee who has been fired mistakenly sent an emergency alert to mobile devices and TV and radio stations warning of an incoming missile strike on Jan. 13.
"BALLISTIC MISSILE THREAT INBOUND TO HAWAII. SEEK IMMEDIATE SHELTER. THIS IS NOT A DRILL," the initial emergency alert read.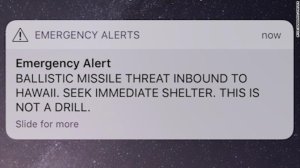 Regulators say the employee mistook a drill for the real thing.
Logan says a second worker has quit before disciplinary action was taken and another is being suspended without pay.
A corrected alert was not sent to mobile devices for nearly 40 minutes because state workers had no prepared message for a false alarm.