This is an archived article and the information in the article may be outdated. Please look at the time stamp on the story to see when it was last updated.
OKLAHOMA CITY - Oklahoma City officials rushed to Reno and Penn after a truck lodged itself under the old I-40 bridge and spilling hydraulic fluid on the roadway Thursday.
Police said the truck driver had just unloaded a dumpster on 22nd St. and N. Penn. Ave., and then started traveling south towards the old I-40 bridge.
"His boom was up and it was up just high enough to catch the center piece that goes around to the bridge," Lieut. Stan Moss said.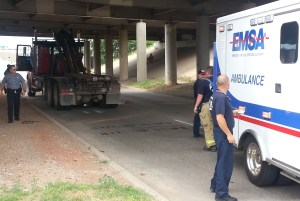 The damage very clear, you can see the metal under the bridge bent by the force of the impact.
The driver was injured in the crash.
"He was transported to the hospital. We're unknown right now of his injuries," Moss said.
The collision caused hydraulic fluid leakage, pouring out of the boom, which is why HazMat was called to the scene, to secure the liquid on the roadway.
Officials had to enforce road closures to ensure the safety of the public.
"Look at the bridge and see if it's safe for people to travel under the bridge but there is no travel on the I-40 itself," Moss said.
The Department of Transportation was called out to examine the roadway to make sure it's safe for drivers.