This is an archived article and the information in the article may be outdated. Please look at the time stamp on the story to see when it was last updated.
OKLAHOMA CITY – While many drivers are heading home from work, some may have to take a detour as crews are trying to clean up a fuel spill on a busy highway.
Oklahoma City firefighters and Hazmat crews rushed to the area of I-40 and MacArthur shortly after 3:30 p.m. following an accident between a small car and a semi-truck.
Authorities say a semi truck ruptured one of its fuel tanks and was leaking fuel on the roadway.
Bob Moore Chopper 4 is over the scene and it appears traffic heading westbound on I-40 is already becoming backed up.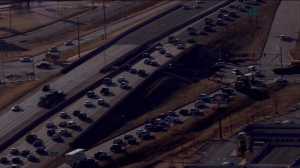 The on-ramp to I-40 from MacArthur is blocked off at this time.
Crews have also narrowed I-40 to one lane near MacArthur.
This is a developing story.
Refresh this page for updated information.