This is an archived article and the information in the article may be outdated. Please look at the time stamp on the story to see when it was last updated.
OKLAHOMA CITY – A shy smile in the mirror belies Becky Normore's true grit. She's a fighter.
"I can do this. So many women have been through this," Normore said.
Becky is battling breast cancer. She's been through several rounds of chemotherapy, but when others are losing their hair, she is not.
"I don't want to lose my hair and I don't feel sick, but I'm going to look in the mirror and then I'll feel sick," Normore explains.
With her hair intact, it's a different story. She feels strong and confident. Her secret weapon is "Cold Cap Therapy" known as CCT.
The caps are still in clinical trials in the United States, but have been used in Europe for 15 years.
On chemo days the gel-chilled hats are wrapped around the patients head and changed frequently.  Becky's husband Clinton helps with the carefully choreographed cap changes
"Becky's prescription is a cap change every 30 minutes with kneading it every 10 minutes.  We go through about 14 caps throughout the course of treatment."
Clinton said that cold cap doctors get patients' chemo specs and tailor each person's therapy, "The coldness of the cap needs to cover the scalp most effectively."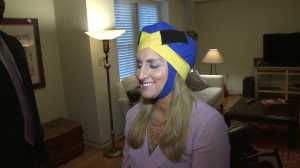 The caps are kept at a specific temperature during use. Cancer nurse, Justin Bouse, works with Becky during chemo.  He supports the use of the cap.
"The science itself, when you really look at it, it's pretty simple. What we're trying to do is cause vassal constriction.  Cooling the scalp causes vassal constriction and that limits the amount of chemotherapy that actually gets in the hair follicles."
"What's really important for these cold caps is the storage. They need to be kept in a special freezer at minus 22 degrees Fahrenheit."
In many cases, the Rapunzel Project will donate the use of a freezer. The Project is a non-profit group that supports cold caps around the world.
Bouse said he's seen varying results with the cap. He also admitted that it takes manpower
"It is labor intensive and it's something families have to become involved in," Bouse says.
In the past, there has been a 1 percent risk of cold caps leading to scalp cancer, but a recent study found those with breast cancer had no increased risk.
At least one CCT company testified they've had more than an 80 percent success rate. For Becky and her family there is no doubt that it works
"I think if I wasn't using these I would definitely lose my hair," Normore says.
Becky Normore paid a deposit of $600 for the caps and then rents them for $500 a month during her chemo treatments. At this point most insurance doesn't pay for them – but many believe that will change.
For more information you can contact rapunzelproject.org