This is an archived article and the information in the article may be outdated. Please look at the time stamp on the story to see when it was last updated.
OKLAHOMA CITY – It all starts with a cough, runny nose and a fever.
While many parents believe it is a simple cold, doctors say it can actually be something much worse.
Within one to two weeks, the cough might turn into violent coughing fits, which is when a doctor will diagnose the patient with pertussis, or whooping cough.
While everyone is potentially susceptible to pertussis, doctors are specifically concerned about infants, whose immune systems aren't strong enough to fight off the bacteria.
In 2012, 7-week-old Aiden Smith died from the disease.
"From pertussis, Aiden had pneumonia and his lungs collapsed," Sarah Simpson, Aiden's aunt, told NewsChannel 4 at the time.
Dr. Laurence Burnsed, an epidemiologist with the Oklahoma State Department of Health, says they have seen a rise in the number of confirmed pertussis cases in recent weeks.
In 2015, the department learned that 86 patients across Oklahoma had confirmed cases of pertussis, which was a drastic decline from the previous year.
In 2014, health officials say there were 141 confirmed cases.
So far this year, experts say they have confirmed 70 cases across the state, nearly double the confirmed cases at this time last year.
Burnsed says that late fall and winter tend to be the seasons with the highest occurrence of pertussis, but there is no way of knowing whether or not the disease will improve in the coming months.
In fact, investigations into reported pertussis cases can be active for several weeks before being confirmed by health officials.
When KFOR first asked about pertussis cases in our state back in February, the Oklahoma State Health Department said they did not have any confirmed cases at that time. In fact, they were investigating several but had yet to receive confirmation on those tests.
The patients range in age from infants to 81-years-old.  Officials say 16 of the cases occurred in May, 14 occurred in April, 12 were confirmed for January and 10 were in June. February and March also had 9 patients each.
Health officials say that a patient can be contagious from the onset of symptoms up to three weeks later, meaning that they may put others at risk if not treated immediately.
Experts  encourage parents and adults to take their child to the doctor, even if they believe they may have a simple cold. Also, they are encouraged to ask their doctor about pertussis to stop any chance of the disease spreading or becoming worse.
Fortunately, health officials say no one has died from this recent increase, but say this should serve as a reminder to families about the dangers of the disease and how quickly it can spread.
There is a vaccine but newborns are too little to get it. Instead, family members are encouraged to get vaccinated to protect themselves and the infant from coming in contact with the disease.
However, there are some Oklahomans who are choosing to not vaccinate their children.
The Oklahoma State Department of Health provided KFOR with immunization reports for kindergartners, spanning a decade.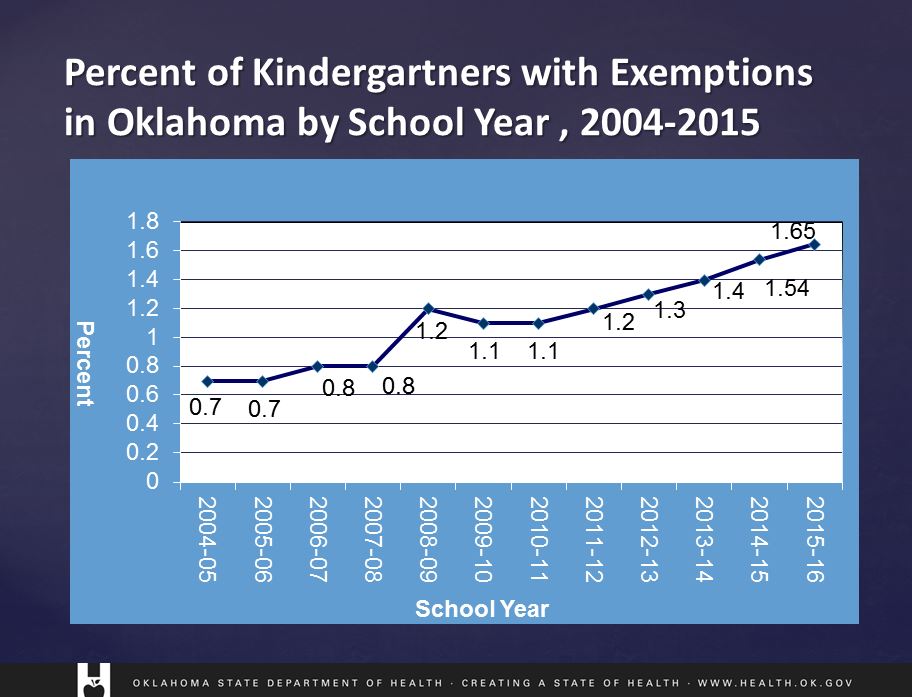 It shows that 1.65 percent of children going into kindergarten in the 2015 to 2016 school year were not immunized, which is the highest level it has been in the past 10 years.
Officials say 9 percent of those children could not be immunized because of medical reasons.
In all, 26 percent were not vaccinated because of religious reasons, while 65 percent were not vaccinated because of personal choice.
Burnsed says that even if you get pertussis, you will not be immune from contracting the disease again. Instead, a booster is recommended for people between the ages of 10 and 64-years-old to enhance your immunity.
He says if you contract the disease after being vaccinated, the symptoms will be much milder.